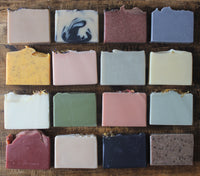 OUR MISSION
Discover Hudson Soap Co.'s All-Natural, Handcrafted Bath and Body Products
Hudson Soap Co. takes pride in using only the best ingredients for our natural soaps, bath, and body products. We use high-quality, sustainably sourced oils and butters, pure essential oils, and plant-based ingredients that are gentle on your skin. All our products are handcrafted in small batches with absolutely no SLS, parabens, preservatives, synthetic dyes, fragrance oils, or detergents. Plus, we are committed to being eco-friendly by making all our packaging reusable, recyclable, or biodegradable.
Testimonials
I can't get over how amazing this soap is! I have been looking for a high quality, natural and zero-waste packaged soap for a long time and I finally found it. I have also tried numerous shampoo bars over the years and Ally's shampoo bar is by far the best, I'm not sure how you figured out the recipe but you nailed it! Thank you Ally for creating beautiful, natural and quality products!

Sara T.
The charcoal soap is the only soap I have found that keeps my skin clear, rosacea calm. This and the charcoal mask are must haves!!!!

Melanie A.
I highly recommend Hudson Soap Co. Allison was very friendly and very helpful and responsive. The products are amazing and make great gifts! Thanks again 

Catherine L.
Love the products and Allison is great! Thank you!

Linda Z.
Just a Beautiful product!
You know where all the Ingredients come from and who is making them!
BUY LOCAL! ❤️
Ally is Amazing!

Susan C.
These soaps are a great product!
Not only do they smell amazing and leave you feeling much cleaner than cosmetic soap, they use natural products and quality essential oils.
I am using the poppyseed lemon 🍋 as my body soap for about two weeks now and I typically have very dry skin in the winter. I have not had to use any moisturizer and my skin feels far less dryer than than before.

Shaun
Highly recommended!! The orange scented lotion bar is one of my absolute favourite products, and the oatmeal soap is really gentle on eczema prone skin. 
I can't wait to see what else the Hudson Soap Co has in store 💕

Kyanna T.